Water Damage in Oklahoma City
Weather Alert: If you are experiencing weather-related damage from the storm, call us today for emergency assistance!
911 Restoration of Oklahoma City
It is crucial for property owners to have access to an Oklahoma City water damage company that has the ability to respond on a moment's notice with high-quality restoration services.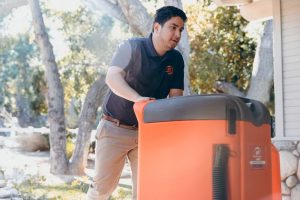 You can trust 911 Restoration to be open when you need emergency water removal and disaster repair services. The instant you discover a rainwater leak or a house flood, you can call our office and expect an immediate response.
Water is a powerful element that can do a lot of damage in a short period, which is why technicians guarantee to arrive on the job site within 45 minutes of receiving your call. Call us at (405) 212-3028 and allow us to offer you a free visual inspection.

The repair techs understand that property damage can occur at any time, so they stay available 24/7/365 because they don't believe in making customers wait for help during a water emergency.
You can expect the technicians to conduct same-day restoration services for all water-related disasters that will quickly get water out of your property and get the area as dry as soon as possible.
Customers can trust that they are in good hands when they hire our team, not only because the entire organization is licensed, bonded, and insured, but because we have earned our IICRC certification from the Institute of Inspection, Cleaning, and Restoration.
If you live in Edmond, Norman, or anywhere else in the Oklahoma City area, give us a call and 911 Restoration will administer restoration work for water damage restoration Edmond, mold, sewage, fire, smoke, or any other disaster damage you may encounter.
At 911 Restoration of Oklahoma City, we offer a Fresh Start with our comprehensive selection of property damage restoration services, including but not limited to:
Whether you're a Oklahoma City homeowner or business owner, 911 Restoration of Oklahoma City is your Fresh Start! We'll communicate with you throughout the entire process, help answer questions related to insurance, and restore your property to its pre-damaged condition. One of our IICRC-certified teams is dispatched within 45 minutes of your call! Contact us today, and one of our friendly representatives will assist you in finding the nearest Oklahoma City location.
Water Damage Restoration in Oklahoma City
Even the most proactive property owners need professional water damage restoration in Oklahoma City at one point or another, especially during the cold months when it can be impossible to avoid accidents like pipe bursts.
When you need flood cleanup services, technicians will be at your property immediately to keep your home and your family safe from the effects of a frozen pipe.
When pipes become frozen, they often lead to pipe bursts, which can cause massive indoor flooding issues in mere hours. However, by hiring the flood cleanup crew in Oklahoma City, you can rest easy knowing that you are under the care of the most qualified technicians.
A water invasion can be disruptive to your household and your life, which is why repair techs work quickly and efficiently to get you back on track the best way they know how- by implementing top-of-the-line water damage restoration.
Your satisfaction is most important to us, and the technicians look forward to proving their dedication to you. So, call 911 Restoration today at (405) 212-3028 to receive water damage restoration company Oklahoma City from a team that cares and understands your needs.
Service area map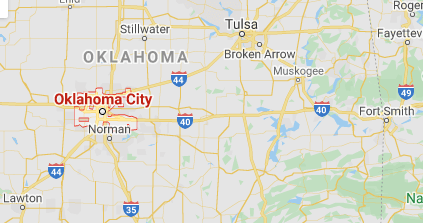 Sanitization Services & Disinfection Solutions
The coronavirus represents a major concern for all of us living in Oklahoma City. Hundreds of thousands of people have already fallen ill with the coronavirus. It continues to spread through our area. You can take proactive steps to slow it down by self-isolating and practicing good hygiene habits. You can also do your part to keep the community safe by keeping your property disinfected and sanitized. If you're recovering from a disaster, sanitizing areas affected by water damage in Oklahoma City is the final touch guaranteed with our Fresh Start promise!
Professional disinfection solutions are only a phone call away with 911 Restoration of Oklahoma City. We are standing by to offer you the help you need with disinfection and sanitization services. You can reach out to us if you own residential or commercial property. Our experienced and IICRC-certified cleanup techs follow all the guidelines issued by the CDC and EPA. Make sure you are ready to keep your property clean and sanitized in Oklahoma City by contacting us around the clock.
Mold Removal
Any moisture left to linger in your home or business can lead to a mold infestation, which is, fortunately, something the crew members are experts in eradicating.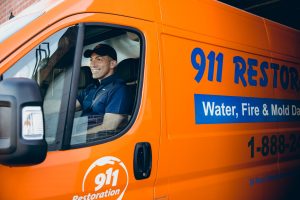 Administering thorough mold removal is crucial to keeping up the maintenance of your property and your health, since inhaling mold spores can lead to allergies and respiratory issues.
When you experience water damage to sheetrock or other porous services, the moisture can spur a mold infestation within 24-48 hours, making prompt mold remediation vital to the recovery of your home or business.
By keeping your property maintained you could prevent extensive mold growth from taking place in your property. Even if you do not see mold growing, but have unmitigated water damage in your property, you should reach out to receive a free visual mold inspection.
The technicians can stop an infestation in its tracks. We know how to prevent and extricate all levels of mold infestations through all of our years of experience in the industry.
This background enables customers to breathe a sigh of relief knowing that when the technicians are on the job, you are in the hands of the most competent mold experts in the industry. So, call Mold removal companies in Oklahoma City today and technicians will do whatever it takes to give you the Fresh Start you deserve! Call us at (405) 212-3028 and see how we can help.
Sewage Backup And Cleanup
Raw sewage is a hazardous substance that needs to be avoided at all costs, especially after a sewage backup has caused the black water to overflow into your home or business.
When you call 911 Restoration of Oklahoma, you will receive the most qualified sewer flood cleanup service in the industry. The technicians will completely decontaminate and sanitize your property, as well as address any Water Damage Restoration service Oklahoma City
Despite the obvious reasons why a sewage overflow is a disaster, there are serious reasons as to why the technicians respond so urgently to situations involving black water.
Sewage is filled with toxins and bacteria that can influence your health, making it crucial to wear protective clothing when handling the black water. By using specific extraction equipment, repair techs will remove all traces of sewage and its odor.
If you need sewage cleanup conducted quickly and efficiently, call 911 Restoration of Oklahoma City. Their highly trained technicians will provide you with the restoration services you need to make a full recovery.
Fire And Smoke Damage Restoration
Fire and smoke can cause extensive property damage in a matter of minutes. However, the after-effects of such a disaster can be permanent unless you call 911 Restoration of Oklahoma City as soon as the fire department puts out the flames.
The quicker the fire damage cleanup is administered, the better the chances are that your property will make a full recovery after a fire has taken place.
Technicians will implement comprehensive fire restoration techniques that deal with both fire and smoke damage. Of course, we'll check for any water damage that typically is created during the fire extinguishing process.
The repair techs have been in the restoration industry for decades. They understand how to handle all aspects of a fire, including removing that foul odor caused by the smoke.
Smoke and ash can permeate every room of the property and create a smoke smell to fill the entire premises. By using special cleaning agents and powerful vacuums, technicians will remove the smoke odor entirely.
So, call Fire Damage Restoration Oklahoma City at (405) 212-3028 as soon as you need fire damage cleanup, and we will give you the peace of mind you need when you find yourself amid a fire disaster.
Disaster Restoration
Many different kinds of disasters can impact your property, such as roof leaks, home floods, property fires, and toilet overflows. No matter the situation, 911 Restoration has extensive experience in mitigating all kinds of disasters.
Repair techs know that you may feel overwhelmed when a disaster hits your life. Because of this,  we are here to help get you through it by administering high-quality restoration services.
It is essential to have professionals by your side to get you through this disaster feeling positive. With customer service being the top priority, staff members are confident that they can reach this goal.
They will treat your home as if it were their own. Our team takes all the precautions necessary to care for your belongings. Our experts will treat your property with the utmost respect and care. If it is determined that furniture and other items need to be removed for the disaster restoration to be conducted correctly, then technicians will provide the professional pack-out and storage services.
The comprehensive services our technicians provide will repair all the disaster damage created in your home or business. The team at 911 Restoration of Oklahoma City will arrive ready to get to work restoring your home. So, call us today and let us show you how we can turn a disaster into a Fresh Start!
Commercial Water Damage Restoration
When it comes to commercial property damage, business owners shouldn't wait to call the restoration experts of 911 Restoration. Whether your business experiences a flood, fire, sewage backup, or mold outbreak, any threat can jeopardize your bottom line.
Our Oklahoma City commercial disaster restoration technicians understand how important it is to get your business back up and running after damage. We're available any time of day, any day of the year, for a wide range of restoration and remediation services. In addition, we can also handle large-scale disasters, such as fire, flooding, and earthquake damage.
No matter what type of damage, call the experts at 911 Restoration of Oklahoma City for peace of mind. Call us at (405) 212-3028. today and get a Fresh Start!
Serving the communities of Bethany, Edmond, El Reno, Mustang, Norman, Oklahoma City, Yukon, Del City, Midwest City, Moore and surrounding areas.