Fire Damage Restoration in Oklahoma City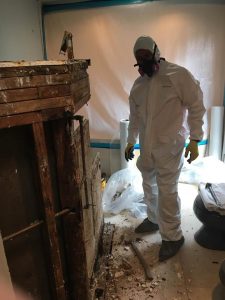 The fire and smoke damage restoration in Oklahoma City caused by an indoor blaze can create extensive property damage and ruin your belongings, not to mention the flooding that the firefighters create while extinguishing the flames.
Fortunately, the technicians at 911 Restoration of Oklahoma City are capable of handling all aspects of fire, water, and smoke damage and will completely restore your home or business after it has been impacted by these elements.
Technicians want to implement fire cleanup procedures as soon as they can to prevent any permanent damage and salvage your possessions.
Property owners will receive a free fire damage assessment, during which repair techs will determine the extent of the destruction and formulate an estimate. This initial inspection will help customers understand the repair process and allow them to ask any questions.
It is important to the entire team that you feel taken care of throughout the ordeal and knows that the technicians will implement a fire cleanup strategy that will surely bring your property back to the state that you know and love.
911 Restoration of Oklahoma puts customer service above everything else, and the staff will prove their dedication to each and every customer through their attentive professionalism.
Call Mold Removal companies Oklahoma City at (405) 212-3028 and please allow us to offer you a free visual inspection.
Don't let your residential or commercial property linger in the aftermath of a fire disaster. Call 911 Restoration to receive emergency fire cleanup in Oklahoma City, Norman, or Edmond today!
Thoroughly Removing Ash, Soot, And Smoke Damage
Even if the fire was only in one room, it could still affect the entire property. Smoke and ash have the ability to permeate the whole structure, consuming the property with a foul, smokey smell.
Soot and ash have a way of creating a thin veil over every surface of the property, which potentiates the smoke smell. Through ventilation procedures and removing the smoke stains and ashy substances, the odor will dissipate completely.
When ash settles on certain surfaces, the oils are released onto whatever it lands on, creating a tar that is impossible to remove with household cleaning products.
Technicians use powerful, yet eco-friendly agents specifically designed to handle oily residue to wash away smoke and ash stains. The sooner the soot, ash, tar, and smoke issues are mitigated, the quicker your property will look clean and smell fresh again.
Call us at (405) 212-3028 and learn how we can help.
When you are impacted by fire and smoke damage in Oklahoma City, call 911 Restoration, and the experts will give you the peace of mind you need to get through this.
Water And Fire Restoration Go Hand-In-Hand
911 Restoration of Oklahoma City prides itself on being a full-service restoration company that specializes in both water and fire Restoration in Oklahoma City.
These comprehensive services are crucial to the recovery of your property after a fire has taken place because the water damage created by the fire department has the potential to be even more severe than the fire itself.
It is standard for our technicians to make water damage restoration a vital part of the fire cleanup process. This is the only way to ensure that no damage is left behind to cause future issues, such as structural damage and mold growth.
Often the fire and flood damage is extensive enough to require that your furniture and other belongings be removed from the premises during the fire damage restoration in Oklahoma City.
Technicians will conduct professional pack-out and storage procedures for you, ensuring that your items are safe and enabling the restoration services to be completed to the best of our ability. Call us at (405) 212-3028 and see how we can help you.
Call 911 Restoration Reno when you need thorough fire cleanup services, and you will receive a Fresh Start from a team that cares and understands your needs.