Water Damage in Oklahoma City
The severe climate of Oklahoma City makes water damage common in homes and businesses. The city is part of Tornado Alley, an area frequently hit by tornados. Fortunately, 911 Restoration has decades of experience remediating storm damage emergencies. Our technicians will help you on a moment's notice. We guarantee to arrive within 45 minutes of receiving your call, ready to begin water damage restoration services in Oklahoma City. Our office is open 24/7/365, so you can reach out to us day or night.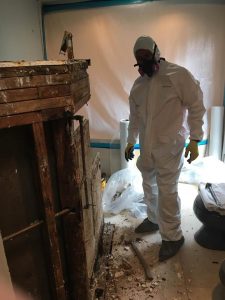 911 Restoration of Oklahoma City employs IICRC certified technicians that have reached the highest standards in the industry. We are experts at both residential and commercial restoration, so you can trust that your home and business are in good hands. Call us at (405) 212-3028 and see how we can help you.
Keeping you safe amid a house flooding incident or major property leak is our top priority. We are licensed, bonded, and insured, so you are protected in full when you need complete leak and flood cleanup services.
Since 911 Restoration is locally owned and operated, our technicians specialize in mitigating the specific moisture issues that impact Oklahoma City. You can feel confident in our ability to administer successful water damage services in Oklahoma City in any situation.
Along with hiring experienced, qualified professionals, 911 Restoration also offers competitive water restoration rates. When you need flood damage restoration in Oklahoma City, call our office today!
Hail Can Cause Leak and Flood Damage on Your Property
Oklahoma City is prone to thunderstorms and tornadoes every month of the year, with spring being the highest risk months. Along with torrential rain and wind, these storm systems generate large hail.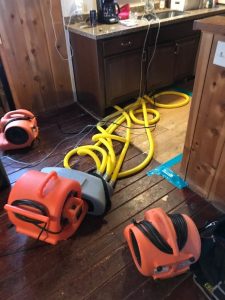 When hail hits your property, it can severely damage the roof and foundation. The strong wind can throw hailstones through windows, causing a rain water leak into houses and businesses.
The size of the hailstone can determine the extent of the damage. The hail caused by tornadoes can be as large as softballs and rough around the edges. When hail of this magnitude hits your property, not only can it make dents, but it can crack your roof, break shingles, and damage the foundation.
911 Restoration of Oklahoma City has years of experience dealing with hail and storm damage. It is crucial to respond quickly to contain any active leaks and house flooding. You can count on our technicians to respond immediately with emergency water damage restoration. 
We will mitigate rainwater leaks and conduct thorough water removal services. Since hail can create substantial structural damage, we will come prepared to repair water damage on sheetrock.
If the storm causes interior flood damage, our repair techs will conduct thorough flood cleanup and drying procedures. Getting the property dry is especially important in the spring and summer when humidity is at its highest point.
Call us at (405) 212-3028 and please allow us to offer you a free visual inspection.
The wet, hot climate can cause a mold infestation in a matter of days. Fortunately, our technicians also specialize in mold removal. If we discover an infestation, then we will conduct thorough mold decontamination services.
Call 911 Restoration when you need leak repairs or flood cleanup in Oklahoma City after a storm. We will provide you with full-service water damage repairs that are sure to recover your property from any situation!
Affordable and High-Quality Water Damage Restoration
We make it our mission to help as many people in the Oklahoma City community as we can. 911 Restoration does this by keeping water damage repair costs down and accepting all insurance types.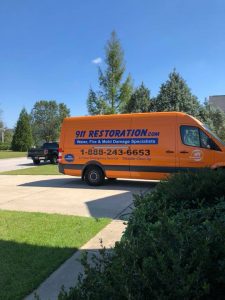 It can be overwhelming to deal with your insurance company on your own. To make this process easy, our staff will provide you with a free insurance consultation. By having a professional look over your plan, you will fully understand the coverage you're entitled to receive.  
911 Restoration will directly bill your insurance company and submit your claim for you. Onsite technicians will help you take inventory of your losses to send to your provider. The more information they have about the water damage restoration, the more coverage you will receive.
We want to keep your losses as minimal as possible. Moisture can damage upholstery and carpet, but we can salvage your belongings by getting them out of the water quickly. 
Our technicians will facilitate the pack-out and storage services needed to complete the flood cleanup without potentially damaging your possessions. If we need to remove a carpet due to water damage, then we will take measures to dry it out and prevent mildew growth. Call us at (405) 212-3028 and learn how we can help.
When you hire 911 Restoration of Oklahoma City, you will receive water restoration from a team that cares and understands your needs. We know that a Fresh Start is possible for you today!
Servicing the cities of Bethany, Del City, Edmond, El Reno, Midwest City, Moore, Mustang, Norman, Oklahoma City, Yukon, and the surrounding cities.