Water Damage in Yukon
Living in Yukon can be hard on your property. Tornadoes, thunderstorms, and extreme temperatures frequent the area, causing leak and flood damage. 911 Restoration of Oklahoma City is available 24/7/365 to provide water damage restoration in Yukon. Day or night, our technicians guarantee to arrive at your property within 45 minutes of receiving your call. We will never make you wait for help when dealing with a water emergency. Our professionals will arrive ready to conduct same-day leak repair and flood cleanup services. We will start the water restoration process by giving the property owner a free water damage inspection.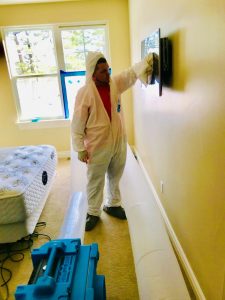 You can trust that you are in good hands when you hire 911 Restoration of Oklahoma City. We employ IICRC certified technicians that are experts at mitigating both residential and commercial property damage.
Along with hiring experienced, qualified repair workers, our entire water damage restoration company is licensed, bonded, and insured. You can be sure you are protected in full when you work with our team.
911 Restoration provides water clean up services nationwide. Each branch is locally owned and operated by professionals who expertly understand the specific water damage issues that affect Yukon. 
Our technicians offer comprehensive water removal, drying, and dehumidifying services that are sure to leave your property looking better than new. We will restore your property entirely, whether you're dealing with a house flooding issue or rain water leak into your business.
Call us at (405) 212-3028 and please allow us to offer you a free visual inspection.
So, call 911 Restoration of Oklahoma City the moment you need flood cleanup in Yukon. With complex water damage repairs in Yukon, we will show you that a Fresh Start is possible today!
Emergency Disaster Cleanup After a Tornado 
Yukon is in a high-risk area for tornadoes and severe rainstorms. These weather patterns make it crucial to have access to emergency disaster cleanup services.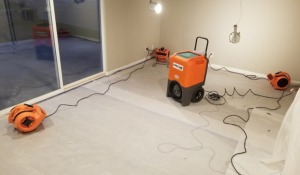 911 Restoration of Oklahoma City is ready to provide fast flood cleanup after a tornado. Our repair techs will address every aspect of the disaster, from the water removal to structural repairs.
Tornadoes are so devastating that they can impact homes and businesses located well outside the direct path of the storm. The torrential rainfall and violent wind can create house flooding and ceiling leakage that require professional flood damage restoration in Yukon.
The winds generated by a tornado can be powerful enough to rip your roof and garage door right off entirely. This will leave the inside of the property exposed to flying debris and rain that can create extensive water damage.
We will immediately initiate water clean up services to remove the bulk of the rainwater. Once our technicians contain the flooding, air movers will extract any lingering moisture.
Call us at (405) 212-3028 and learn how we can help.
Our technicians focus on drying and dehumidifying techniques not only to minimize the structural damage but to prevent mold. The tornado season usually peaks in the spring when humidity levels are high. This warm, damp environment can cause mold to grow in as little as 24 hours.
Fortunately, when you hire 911 Restoration of Oklahoma City, you will receive disaster cleanup services that address all the damage in your property, including mold infestations.
Call the team you can trust to take care of you in any situation. Our professionals will ensure you receive the water damage restoration needed to recover your property completely.
Affordable Water Restoration Rates for High-Quality Services
When water invades your property, we understand that the water damage repair cost is the first thing you want to know.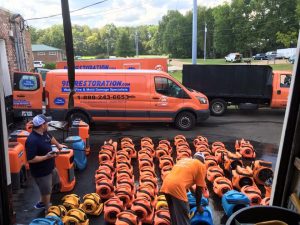 Our technicians can provide this information by conducting a free water damage inspection. We will assess the damage and formulate an estimate before we begin the water restoration.
911 Restoration of Oklahoma City wants you to feel completely comfortable with all the work done on your property. By conducting a thorough initial inspection, our repair techs will limit any surprises during the remediation process. 
We keep our prices competitive so everyone in Yukon can afford high-quality leak and flood cleanup services. 911 Restoration also accepts insurance, so your out-of-pocket expenses stay as low as possible.
If you have never filed an insurance claim for water damage restoration, then you may need help understanding your policy. We offer free insurance consultations to ensure you receive the proper coverage.
You want to provide your insurance company with as much detailed information about the water damage as possible. To make this process go smoothly, our technicians will help you take inventory of your total losses to submit with your insurance claim. We will also file your claim and directly bill your insurance provider. Call us at (405) 212-3028 and see how we can help you.
You can count on our staff to guide you through everything, from the water cleanup to insurance submissions. Call 911 Restoration of Oklahoma City to receive help from a staff that cares and understands what you need from a water damage company. We will give you the peace of mind you deserve!
Servicing the cities of Bethany, Del City, Edmond, El Reno, Midwest City, Moore, Mustang, Norman, Oklahoma City, Yukon, and the surrounding cities.