Water Damage in Bethany
Homes and businesses in Bethany need to be prepared for water damage all year long. The area experiences precipitation every month, with severe active weather peaking in the spring and summer. Between thunderstorms, tornadoes, snowstorms, and hail, it's almost inevitable to feel the impact of water damage at one time or another. When you find yourself dealing with house flooding issues and rain water leaks, 911 Restoration of Oklahoma City will provide you with expert disaster cleanup. Our technicians are available 24/7/365 and guarantee to be at your property within 45 minutes. With our help, you will never have to wait when you need water damage restoration in Bethany.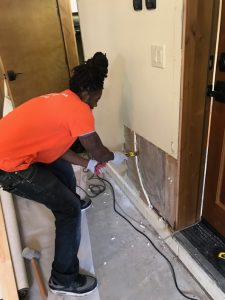 Property owners will receive a free water damage inspection so our technicians can immediately create a water removal plan designed for you. This initial inspection will allow us to determine the extent of the water damage and formulate an estimate for you.
Call us at (405) 212-3028 and please allow us to offer you a free visual inspection.
911 Restoration of Oklahoma City provides full-service water damage restoration in Bethany. Not only do we provide emergency water removal and drying services, but our repair techs will repair structural damages and check for mold.
When you hire 911 Restoration, you can be confident that you're receiving the highest quality water damage service in the industry. We train our IICRC certified technicians to conduct residential and commercial water restoration.
On top of employing experienced, certified professionals, our entire water damage company is licensed, bonded, and insured. You can rest assured you are protected in full when you work with 911 Restoration.
As a locally owned and operated restoration company, our technicians are experts at mitigating the issues that specifically affect Bethany. We understand how the weather patterns contribute to water damage and will assist you with prevention strategies.
Call 911 Restoration of Oklahoma City as soon as you need leak repairs or flood cleanup in Bethany. Our technicians will show you that a Fresh Start is possible today!
Emergency Storm Repairs and Flood Cleanup Services
The springtime marks the time of year where rain drastically increases. Severe thunderstorms and tornadoes frequently appear between April to June, causing torrential rain, house flooding, and water damage.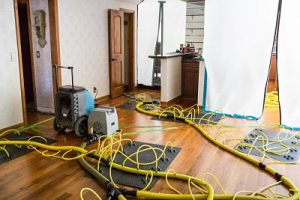 911 Restoration of Oklahoma City understands that prompt water clean up service is crucial to the recovery of your property. If moisture sits for too long, it can lead to mold, especially during the humid summers in Bethany. Call us at (405) 212-3028 and learn how we can help.
Day or night, our technicians will respond with emergency flood cleanup services. We will immediately start the water restoration by performing a free water damage inspection.
Our repair techs always arrive ready to implement same-day services. We will contain any active flooding and use leak detection technology to ensure we don't overlook any water damage.
If the house flooding is severe enough to warrant the removal of your furniture and belongings, our technicians will facilitate the emergency pack-out and storage services. You can trust us to handle your possessions with care as if they were our own.
Once the leakage and flooding are under control, our technicians will use powerful fans to dry out water damage. Although we offer carpet drying services, we may need to remove a carpet due to water damage. Our technicians will safely remove any unsalvageable upholstery and dispose of it properly.
You can count on 911 Restoration of Oklahoma City to handle every aspect of the flood cleanup. When a storm rains down on your home or business, call the team you can trust to give you a complete recovery today!
A Water Damage Restoration Company That Cares About You
The water damage repair cost is one of the first things you want to know after a leak or flood damages your property. 911 Restoration of Oklahoma City wants to answer this question quickly and accurately, which is why we provide free water damage inspections.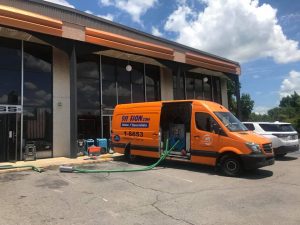 Our technicians will thoroughly inspect the premises so we can give you a proper estimate of the damage. We want to limit any surprises during the water damage restoration to keep your mind at ease.
911 Restoration of Oklahoma City realizes that dealing with water damage is challenging, and we want to make the process as easy on you as possible. This assistance includes helping you with your insurance claim.
We provide free insurance consultations, so you fluently understand your policy. By having a professional go over your plan and file your claim, you will get the coverage you deserve. We will directly bill your provider, so you never have to worry about the filing logistics.
Call us at (405) 212-3028 and see how we can help you.
Documenting the damage to your property and belongings is the best way to receive full coverage for the water damage restoration. Our technicians will help you take inventory of your losses and submit an itemized list to your insurance provider.
911 Restoration of Oklahoma City offers affordable water restoration rates and high-quality services. Call our office when you need expert water clean up service. We will give you the peace of mind you deserve!
Servicing the cities of Bethany, Del City, Edmond, El Reno, Midwest City, Moore, Mustang, Norman, Oklahoma City, Yukon, and the surrounding cities.