Commercial Water Damage Restoration in Oklahoma City
Owning commercial buildings requires focused attention to detail to prevent water damage, mold, sewage, and fire from creating problems that may require you to close the property for repairs.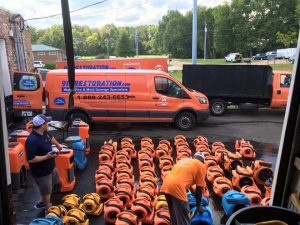 The staff at 911 Restoration of Oklahoma City understands that many commercial property owners run their business out of their buildings and we are sensitive to the fact that restoration work needs to be completed quickly so you can resume business as usual.
Technicians are qualified to administer commercial restoration services for any issue you may be impacted by, such as sewage backups, indoor flooding, ceiling leaks, property fires, and natural disasters.
The repair techs are available 24/7/365 because we never want you to have to wait for assistance, especially if you are experiencing a water emergency. Technicians guarantee to arrive within 45 minutes of receiving your call to mitigate a water disaster, day or night.
The entire operation is IICRC certified, meaning we are backed by the Institute of Inspection, Cleaning, and Restoration. Customers can also feel completely protected when they work with us because we are licensed, bonded, and insured.
It is the top priority of 911 Restoration to mitigate water damage in Oklahoma City, Edmond, and Norman. So, call us today, and technicians will show you that they can turn any disaster into a Fresh Start!
Recovering From Pipe Bursts In Your Commercial Property
When you experience pipe bursts in Oklahoma City, you can count on the technicians to be at your property quickly to implement emergency water removal services.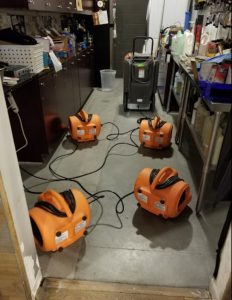 Severe flooding can be caused by a broken pipe within a matter of hours, making immediate water restoration crucial to the recovery of your home or business.
Pipe bursts can cause water damage on sheetrock and other porous materials, which can then lead to a mold infestation. Surfaces like walls and ceilings can begin showing signs of mold within 24 hours of being exposed to moisture, requiring immediate commercial restoration services.
Water damage repair needs to be handled with the urgency and efficiency, especially if you own a business and it needs to be closed during the commercial restoration.
Technicians want to administer flood cleanup services as soon as possible to limit your losses and prevent mold growth, wood rot, and rusting. Customers can depend on us to work diligently until every aspect of the property flood is repaired.
If you experience a pipe burst in Oklahoma City call 911 Restoration immediately and technicians will arrive shortly to give you the peace of mind you need to get through this disaster.
Complete Restoration Service From A Team You Can Count On
Commercial property damage needs to be addressed by professionals who understand every aspect of the situation, from the restoration work to the customer service that every customer deserves.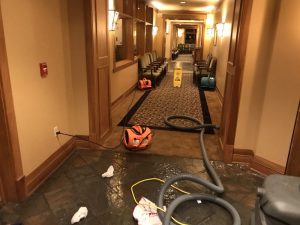 The goal of 911 Restoration of Oklahoma City is to get you the comprehensive service you need to not only recover but to make you feel positive about the situation and confident that everything is going to be ok.
Many customers have questions about water damage repair costs. To make you feel at ease about the financial side of things, a staff member will provide you with a free insurance consultation.
911 Restoration of Oklahoma City works with all insurance companies and agents will go over your insurance policy to determine what coverages you are entitled to receive from your provider.
A standard insurance policy covers most repair work, but for situations that are not covered, you can feel relieved knowing that we provide competitive water restoration rates.
It is important that everyone can afford the commercial restoration services that we provide and that you feel taken care of throughout the entire process. So, call 911 Restoration of Oklahoma City when you need help from a team that cares and understands your needs today!