Water Damage in Midwest City
Summer in Midwest City is hot and humid. Although the season is generally dry,  severe thunderstorms punctuate the months. Since summer storms aren't frequent, you may find yourself unprepared for their impact. Rain water leaks and house flooding issues can cause extensive water damage and mold that requires professional water damage services in Midwest City. Prompt water damage restoration is crucial under these conditions, which is why 911 Restoration of Oklahoma City is available 24/7/365. Day or night, our technicians guarantee to arrive within 45 minutes to provide emergency leak repairs and flood cleanup in Midwest City.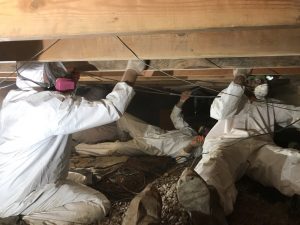 911 Restoration of Oklahoma City is familiar with how the climate of Midwest City impacts homes and businesses. Each season is prone to severe weather that includes tornadoes, hailstorms, freezing temperatures, and torrential rain.
Regardless of the time of year, our technicians guarantee to provide immediate water damage restoration in Midwest City. We will conduct same-day water removal and drying services that are sure to recover your property completely.
You can trust that 911 Restoration works with the most qualified technicians in the industry. We employ IICRC certified professionals who are experts at mitigating both residential and commercial water damage.
Call us at (405) 212-3028 and please allow us to offer you a free visual inspection.
Your wellbeing is always our main concern. To ensure your safety, our technicians will conduct complete water damage repair in Oklahoma City, drying, and dehumidifying services. We will also test and evaluate the structural integrity of your property.
Call 911 Restoration of Oklahoma City as soon as you feel the impact of a summer storm, tornado, or any other water emergency. We will show you that a Fresh Start is possible with full-service disaster cleanup today!
Emergency Water Removal and Drying Services After a Thunderstorm
Even though the peak season for thunderstorms is in the summer, these severe storms can potentially hit Midwest City any time of year.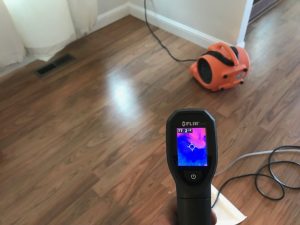 The torrential rain, hail, and wind-generated by thunderstorms can cause extensive water damage and house flooding. If this situation should occur, professional water damage restoration is vital.
Summer thunderstorms are particularly damaging due to the humid climate. The damp, warm weather makes the perfect environment for mold growth. Any invasive moisture can spark an infestation in as little as 24 hours.
911 Restoration of Oklahoma City will arrive prepared to administer leak repairs, flood cleanup, and mold removal. Our technicians will conduct a full-service disaster cleanup that addresses every aspect of the water emergency.
We will survey the property to look for rainwater leaks, flood damage, mold, and structural issues. Our repair techs use leak detection technology to ensure no moisture goes overlooked. By using advanced drying and dehumidifying techniques, we will get the property as dry as possible. This aspect of the flood cleanup up is essential in stopping mold and mildew growth, as well as preventing structural damages.
Mold and water damage can impact the structural integrity of the property by eating through wood. Our technicians will promptly remove any water damage on sheetrock and replace it with new materials.
Call us at (405) 212-3028 and learn how we can help.
As part of the flood damage restoration in Oklahoma City, we will test and evaluate any structural damages to ensure your safety. You can trust that our technicians will leave your property safe and sound.
Call 911 Restoration of Oklahoma City when you need emergency storm repairs in your home or business. We will provide you with the peace of mind you deserve!
Competitive Water Restoration Rates From a Company That Cares
It goes without saying that when you need leak or flood cleanup on your property, you want high-quality services at the best price possible.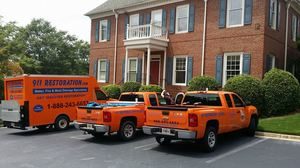 911 Restoration of Oklahoma City is confident in our ability to give you what you want. We offer affordable water damage repairs administered by the most qualified technicians in the industry.
Not only do we have competitive water restoration rates, but we accept insurance too. 911 Restoration has worked with every type of insurance company over the years, and we are comfortable working with all of them, big or small.
To make the filing process go smoothly, our staff will offer you a free insurance consultation. This way, you can be sure your provider is receiving all the information it needs to provide you with the best possible coverage.
Our onsite technicians will help you take inventory of your losses so you can submit an itemized list of the damage to your provider. We will also directly bill the insurance company and file your claim for you. Call us at (405) 212-3028 and see how we can help you.
With 911 Restoration of Oklahoma City by your side, you can be sure someone will be there to guide you through the entire water damage restoration process. So, call the team you can trust to give you a Fresh Start today!
Servicing the cities of Bethany, Del City, Edmond, El Reno, Midwest City, Moore, Mustang, Norman, Oklahoma City, Yukon, and the surrounding cities.