Mold Removal in Oklahoma City
One of the more common indoor nuisances that affect property owners throughout Oklahoma City is mold and mildew growth.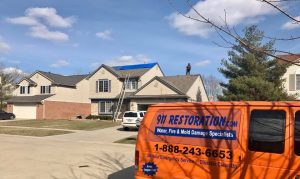 A mold infestation can begin within 24 hours of being exposed to moisture, making quick mold removal services crucial to stop it from spreading throughout the property.
At 911 Restoration of Oklahoma City, technicians will provide property owners with free mold inspections, allowing them to determine the source of the infestation, check for any water damage, and formulate an estimate.
The technicians are experts in administering both mold remediation and water damage restoration because leak and flood damage is typically the cause of mold.
Our repair techs are qualified to administer mold remediation in residential and commercial properties, so you can depend on us to decontaminate the affected area if you own either a home or a business.
Call us when you need expert mold removal, and our IICRC-certified technicians will administer the comprehensive services required to make your property a clean, safe space again.
Free Mold Inspections For Property Owners
Mold is typically found in damp, warm climates, which can occur in any home or business, especially in attics, basements, crawlspaces, and sink cabinets.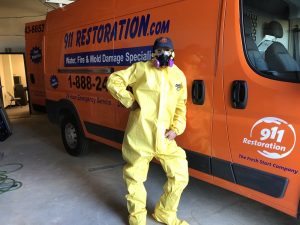 Since residential and commercial buildings often create microclimates with artificial cooling and lighting, mold can grow quite well in between walls and floorboards, often rapidly infesting these areas.
If a room in your property feels humid for seemingly no reason and a musty, odor accompanies it, then you may be noticing the signs of a mold infestation.
It is crucial to act quickly, as mold can grow at an alarming rate once it begins. Like any other living thing, it needs food and water to grow, and it can get that sustenance from items commonly found indoors, such as wood, paper, cardboard.
Technicians understand the urgency of the situation, which is why they offer free mold inspections. We want to make it easy for you to reach out for help once you realize you may have a mold problem. Call us at (405) 212-3028 and learn how we can help.
Mold is not something that will go away on its own. It must be dealt with in a swift and timely manner, so call 911 Restoration to get your free mold inspection in Oklahoma City today!
A Water Damage Company That Specializes In Mold Removal and Remediation
911 Restoration of Oklahoma City has been executing mold decontamination strategies for decades, and the technicians understand that the leading cause of mold growth is water damage.
When repair techs are called to administer mold removal service in Oklahoma City, it is standard procedure to also check for instances of water damage that may be creating the problem.
To thoroughly remove the mold and prevent it from growing back, the water damage also needs to be mitigated. By using advanced drying and dehumidifying systems, technicians will remove as much moisture as possible to stop mold issues from reoccurring.
Along with removing the mold, the professionals will take spore samples and send them to a third-party laboratory to be tested. This will determine whether or not the mold poses a health hazard and allow technicians to take the appropriate mitigation steps. Call us at (405) 212-3028 and see how we can help you.
Mold can damage the respiratory system of those spending significant time in the property and can severely exacerbate the condition of a person with allergies or asthma.
Technicians want to keep you and your family safe from the impact of a mold infestation, so call us to receive your Fresh Start today!