Oklahoma City Sanitization Services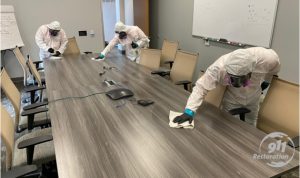 With each passing day, it seems like the coronavirus crisis only continues to grow. In order to protect others and to slow the spread of this deadly virus, the CDC recommends people stay at home as much as possible, wear a face mask whenever they have to go out, maintain a distance of at least six feet from others, and wash their hands thoroughly throughout the day for at least 20 seconds or more.
According to a recent article published by NPR, medical experts think that at least ¼ to ½ of the world's entire population will be infected with coronavirus, with some estimates believing that up to 81 percent of America will harbor this deadly disease.
One of the scariest parts about the coronavirus is that many people don't even know that they have it until it is too late. This is because many individuals will not show any signs or symptoms for 14 days or possibly more. When symptoms arise, they can include:
Coughing

Wheezing

A high fever

Trouble breathing

Aches and pains

Fatigue or tiredness
If you are showing any of these symptoms, it is best to self isolate as much as possible within your home, seek medical attention if and when needed, and to keep your property clean and disinfected so as not to infect others.
If you are not infected, you should still deep clean and sanitize your commercial or residential building to protect your family, friends, employees, customers, and residents.
At 911 Restoration Reno, we understand what you're feeling. We're scared too. This is why our team wants to provide you with peace of mind during this troubling time. We can deep clean your home or business in order to provide a safe, secure environment. Our cleaning specialists are trained to follow the strict protocols set by the CDC and EPA.
 911 Restoration of Oklahoma City is available 24/7/365 to help our community fight coronavirus. Let us sanitize your property to help keep you safe.