Water Damage in El Reno
El Reno is prone to severe tornadoes, thunderstorms, and hailstorms. These natural disasters can occur at any time, and the damage created needs to be dealt with immediately. Fortunately, 911 Restoration of Oklahoma City is available 24/7/365 to provide emergency water damage restoration in El Reno. Day or night, we will never make you wait for help. When you need disaster cleanup, our technicians guarantee to arrive within 45 minutes of receiving your call. We will arrive ready to begin same-day water restoration services.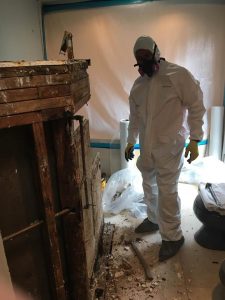 Property owners will receive a free water damage inspection. Our technicians will assess the damage and formulate an estimate of the water clean up services needed.
As a locally owned and operated restoration company, our staff understands how the regional weather patterns contribute to water damage in El Reno. Our local knowledge will allow us to execute a repair strategy specifically designed for your property quickly.
We want you to feel completely confident in our water damage restoration skills. 911 Restoration employs highly qualified technicians that are IICRC certified by the Institute of Inspection, Cleaning, and Restoration.
Along with working with experienced, certified professionals, our entire water damage company is licensed, bonded, and insured for your protection.
You can count on our repair techs to provide you with complete property restoration. We will administer thorough water removal and structural drying procedures to fully recover your home or business from any situation.
Call 911 Restoration of Oklahoma City as soon as you need leak repair or flood cleanup in El Reno. Our professionals will turn your water damage into a Fresh Start!
Severe Weather May Lead to Extensive Water Damage
El Reno experiences an active severe weather season that typically lasts between March and June. Oklahoma City is part of Tornado Alley and is prone to frequent storms.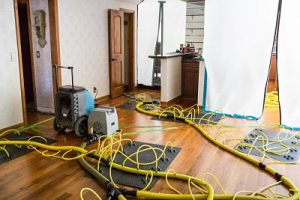 Tornadoes are violent storm systems that generate powerful wind gusts, torrential rain, and hail. These elements can create substantial structural and water damage in homes and businesses, requiring professional flood cleanup.
There is no time to waste when confronted by a storm emergency. Our technicians will respond immediately to circumstances involving house flooding issues and rain water leaks.
As soon as we get on the scene, we will begin water removal, drying, and dehumidifying procedures. Fast disaster cleanup is especially crucial in spring and summer when tornados and storms are most prevalent.
The warm, humid climate can quickly lead to mold growth during this time of year. To prevent infestations, our repair techs will check for signs of mold and mildew during the water damage inspection.
You can depend on 911 Restoration of Oklahoma City to get you through any water emergency. So, when you need flood cleanup after a storm, call the team, you know, you can trust today!
We Will Guide You Through the Water Damage Restoration into a Fresh Start
Between storm systems, floods, and plumbing problems, there are many opportunities for water to invade your property in El Reno.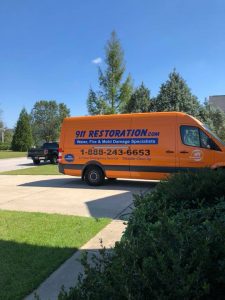 When you find yourself dealing with any of these situations, 911 Restoration of Oklahoma City will be by your side until the water damage restoration is complete. Our staff takes customer service seriously and will put your wellbeing above everything else.
Our technicians will give you peace of mind as soon as we arrive. Not only will our team conduct meticulous flood cleanup services, but we will assist you with communicating with your insurance company.
911 Restoration offers free insurance consultations to ensure you fluently understand your policy. By having a professional go over your insurance plan, you will fully realize the coverage you are entitled to receive.
Along with working with all insurance companies, we offer competitive water restoration rates. We want to make high quality and affordable water clean up services available to everyone in El Reno.
Call 911 Restoration of Oklahoma City today to receive water damage restoration from a dedicated team that cares and understands what you need!
Servicing the cities of Bethany, Del City, Edmond, El Reno, Midwest City, Moore, Mustang, Norman, Oklahoma City, Yukon, and the surrounding cities.