Water Damage in Del City
It's easy to overlook water stains and dripping pipes as minimal issues that don't require immediate attention. However, the climate in Del City makes it crucial to address small moisture problems the moment they appear. The high precipitation and humidity can cause ceiling leaks, house flooding, and mold. 911 Restoration of Oklahoma City is available 24/7/365 to provide water damage restoration in Del City. Our technicians will respond within 45 minutes of receiving your call, ready to begin same-day water clean up services.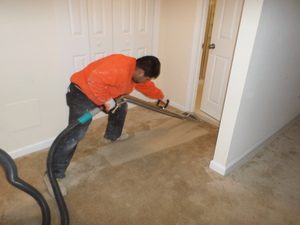 Property owners receive free water damage inspections. This initial assessment will allow us to formulate an estimate of the leak repair and flood cleanup services you need.
911 Restoration of Oklahoma City will take care of every aspect of the water restoration. We provide complete property restoration, including water removal, drying, and dehumidifying services. 
Our technicians will also test and evaluate the structural integrity of your property. These services include repairing water damage on sheetrock, carpet drying, and mold removal. 
You can confidently hire our team, knowing you are under the care of the most qualified technicians in the industry. 911 Restoration employs IICRC certified professionals who are experts in both residential and commercial water damage restoration in Del City.
Call us at (405) 212-3028 and please allow us to offer you a free visual inspection.
911 Restoration of Oklahoma City is a licensed, bonded, and insured company. This insurance status ensures that we will protect you under all circumstances.
When you need flood cleanup in Del City, call the team that cares and understands what you need. 911 Restoration of Oklahoma City will show you that a Fresh Start is possible today!
Testing and Evaluating Structure Damage After a Tornado
There is the chance of tornadoes all year round in Del City, but the peak season typically begins in late March and continues through August. Due to the devastating impact, a tornado can have on your property, storm preparedness is vital.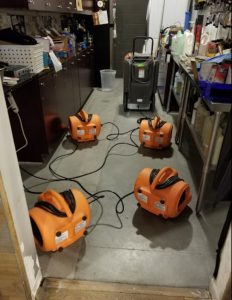 Even if your home or business is not in the direct path of the tornado, the severe weather it generates can still impact your property significantly. 
The wind created by a tornado can not only damage your roof but lift it right off. This doesn't just happen by sheer force. The combination of the high outside pressure and low indoor pressure can lift up the roof while the wind blows it away.
The garage door is also exceptionally vulnerable to the wind and pressure caused by a tornado. Since it is relatively light and large, high winds miles away from the center of the storm can knock it off the tracks.
This pressure differential can also shatter windows and glass doors. This force can be exerted on properties by tornadoes that occur miles away. Flying debris can additionally break glass and damage the siding on your home or business. 
Needless to say, tornadoes can severely damage your property. Our technicians will thoroughly inspect the roof and foundation. Through extensive testing and evaluating procedures, we will address all the property damage, rainwater leaks, and house flooding.
Call us at (405) 212-3028 and learn how we can help.
Your safety is of our utmost concern, and we will make sure your structure is entirely sound. Call 911 Restoration of Oklahoma City as soon as the tornado has subsided. We will provide comprehensive property restoration and flood cleanup services to ensure your property makes a full recovery!
A Water Damage Restoration Company That Provides Disaster Cleanup
Storms and tornadoes are only some of the ways that water and structural damages can impact your home or business. Pipe bursts, sewage backups, and appliance leaks can also create indoor leaks and floods.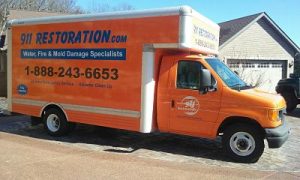 911 Restoration has extensive experience dealing with all these water damage emergencies and more. As a locally owned and operated company, our technicians expertly understand the leak and flooding issues that specifically affect Del City. 
Regardless of how these situations occur, it is crucial to reach out for water damage restoration as soon as it appears. The longer the moisture sits on the property, the more damage it will create.
Mold and mildew can form within 24 hours of a leak or flood. However, the easiest way to stop a mold infestation is to receive prompt water removal and drying services. 
911 Restoration of Oklahoma City specializes in both mold and water damage services in Oklahoma City. Our technicians will quickly implement leak repairs and flood cleanup to prevent rot and mold from infesting the property. Call us at (405) 212-3028 and see how we can help you.
You can depend on us to provide you with complete disaster cleanup. Whether you need water damage restoration, pipe burst repairs, or mold decontamination, we've got you covered. Call 911 Restoration of Oklahoma City the moment you notice any signs of property damage. Our highly trained technicians will give you the peace of mind you deserve!
Servicing the cities of Bethany, Del City, Edmond, El Reno, Midwest City, Moore, Mustang, Norman, Oklahoma City, Yukon, and the surrounding cities.