Water Damage in Moore
When leaks and floods infiltrate your home or business, it's smart to address these issues right away. Environmental factors in Moore can quickly exacerbate the situation, creating mold, mildew, and structural problems. 911 Restoration of Oklahoma will minimize your losses by providing you with emergency water damage restoration, right when you need help. Our office is open 24/7/365, so you can call us day or night. We guarantee to be on your property within 45 minutes of receiving your call, ready to begin same-day disaster cleanup.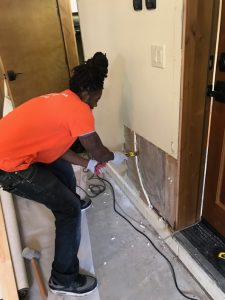 Our technicians always begin the water damage restoration service in Moore by giving the property owner a free water damage inspection. This visual assessment allows us to determine an estimate of the water clean up services needed to repair your home or business. Call us at (405) 212-3028 and please allow us to offer you a free visual inspection.
We want you to have total peace of mind when you work with 911 Restoration. Your wellbeing is always our top priority, and we take exceptional measures to ensure your safety.
911 Restoration of Oklahoma City employs IICRC certified technicians who have reached the highest standards in the industry. Our entire water damage company is licensed, bonded, and insured to guarantee your protection under every circumstance.
As a locally owned and operated restoration company, our technicians are experts at mitigating the water damage issues that specifically impact Moore. From repairing tornado damage to pipe bursts, we will get your property looking better than new.
When you need leak repairs or flood cleanup services, call the team that cares and understands what you need. Call 911 Restoration of Oklahoma City today and let us show you that a Fresh Start is possible!
Emergency Flood Cleanup After a Storm
Moore is prone to experiencing extreme climate patterns throughout the year. Tornadoes, hail, and thunderstorms are just some of the weather systems that impact the region and leave a wake of water damage.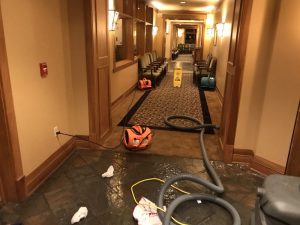 When storms of this magnitude hit your property, it is crucial to reach out for immediate water damage services in Moore. These situations usually call for complete disaster cleanup, since they can cause house flooding, rainwater leaks, and structural damages.
911 Restoration of Oklahoma City knows that there is no time to waste when flood cleanup is needed. Our technicians will arrive ready to perform emergency water removal, drying, and dehumidifying procedures.
We focus heavily on the drying aspect of the flood damage restoration in Moore to prevent mold and mildew. A mold infestation can eat through wood and sheetrock, impacting the structural integrity of your property.
To prevent such issues, our technicians will use leak detection technology and promptly remove water damage on sheetrock. We will also check your roof and foundation to ensure we don't overlook any significant structural losses.
When you hire 911 Restoration of Oklahoma City, you can trust that you are in good hands. Our repair techs have experience with storm damage and will handle every aspect of the disaster cleanup.
Call us at (405) 212-3028 and learn how we can help.
So, call our highly trained technicians when you need complete water restoration after a storm or any natural disaster. We will recover your property from even the most severe damages today!
A Nationwide Water Damage Restoration Company That Cares About You
When you need professionals to clean up water damage, 911 Restoration of Oklahoma City is the company you can depend on for full-service restoration assistance.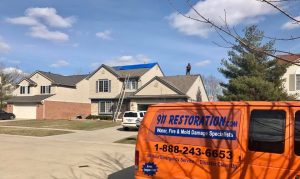 We care about putting you in a position to overcome any disaster you may be facing. Our technicians have decades of experience dealing with water damage and understand everything that goes into the remediation process.
By providing fast and efficient flood cleanup services, we will minimize your losses and get you back into your daily routine as quickly as possible.
Our staff members are always standing by to answer your questions and put your mind at ease. 911 Restoration hopes to calm your concerns by offering affordable water restoration rates and accepting insurance.
If you need help understanding your insurance plan, we will provide you with a free insurance consultation. By going over your policy, we hope to guide you through the submissions process and into the coverage you're entitled to receive.
The more information your provider receives, the better your coverage will be. Our technicians will help you take inventory of your damage to create an itemized list of your losses to file along with your claim. Call us at (405) 212-3028 and see how we can help you.
911 Restoration of Oklahoma City is the company you can trust to take care of every aspect of the water damage restoration. From the insurance procedures to the carpet drying and everything in-between, we will be there for you. So, call us for comprehensive assistance today!
Servicing the cities of Bethany, Del City, Edmond, El Reno, Midwest City, Moore, Mustang, Norman, Oklahoma City, Yukon, and the surrounding cities.