Water Damage in Mustang
Late spring and summer in Mustang are the seasons when you need to prepare for storms and tornadoes. However, there is the possibility of incurring water damage on your property throughout the year. The region's high precipitation and humidity make ceiling leaks, house flooding, and indoor mold prevalent. 911 Restoration of Oklahoma City will act with urgency when you need water damage restoration in Mustang. Our office is open 24/7/365, so our technicians can respond within 45 minutes of receiving your call, day or night.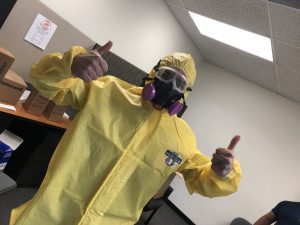 Once we arrive, our repair tech will immediately contain the water damage and begin same-day water clean up services. 
Property owners will receive a free water damage inspection that includes an estimate. We will use infrared and leak detection technology to make sure no moisture spots go overlooked. 
Getting your property as dry as possible is especially crucial in Mustang during the hot, humid summers. Mold can grow out of water damage in as little as 24 hours, making emergency water removal vital to your recovery.
When you hire 911 Restoration of Oklahoma City, you can trust that your home and business are in good hands. We employ IICRC certified technicians that are experts at mitigating both residential and commercial water damage.
Call us at (405) 212-3028 and please allow us to offer you a free visual inspection.
Our water damage restoration company is licensed, bonded, and insured, so you are protected entirely under our care. We want to make sure you have complete peace of mind when you hire our professionals. 
Call 911 Restoration of Oklahoma City when you need emergency storm repairs. We will provide complete disaster cleanup services that will get your property looking better than new!
Emergency Flood Cleanup After a Pipe Burst
You may already know that the freezing winter temperatures can cause pipe bursts in Mustang. However, pipe bursts can occur at any time of year, including the summer, and you need to prepare.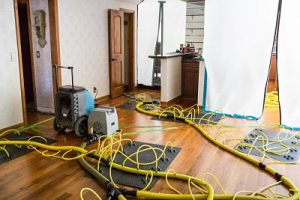 Just like the other materials in your property, pipes can get old. Over time they will wear out and begin to rust, making them vulnerable to bursts. Regular inspections and replacements are essential to maintaining your plumbing system.
The type of water running through the pipes can also impact their condition. Hard water contains magnesium and calcium. These minerals can buildup inside the pipes and corrode the metal. 
Human error also plays a part in pipe bursts. A bad installation can leave pipes poorly connected. Once the water starts flowing, it can quickly break through the bad connection and flood the property.
911 Restoration of Oklahoma City understands the importance of prompt water damage restoration in these situations. We will arrive ready to begin the flood cleanup and repair the structural damage.
Our technicians will clean up water damage on sheetrock and replace the damaged materials. We will use powerful fans to dry out water damage and complete carpet drying services.
Call us at (405) 212-3028 and learn how we can help.
We will handle everything, from the water removal to the dehumidifying services. Call 911 Restoration of Oklahoma City when you need thorough disaster cleanup from a team that cares and understands your needs!
Affordable Water Restoration Rates and High-Quality Services 
Water damage repair costs can be overwhelming. However, when you work with 911 Restoration of Oklahoma City, you can be sure you are getting the best water restoration rates in the industry.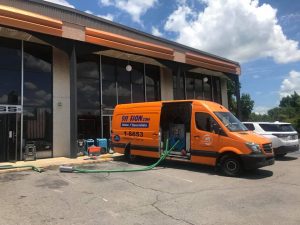 Not only do we offer competitive prices, but 911 Restoration works with all insurance companies. We provide free insurance consultations to ensure you understand your water damage restoration coverage.
Our technicians will help you take inventory of the damage to your property and belongings. You will receive the most coverage by sending an itemized list of your losses to your insurance provider. 
We want to put you in a position to receive the most financial aid possible. Our staff will directly bill your insurance provider and submit your claim for you. 
911 Restoration of Oklahoma City puts customer service at the forefront of everything we do. Our staff will help you in any way we can to make this process go smoothly. From water damage restoration to insurance logistics, you can depend on us to help. Call us at (405) 212-3028 and see how we can help you.
So, call our office when you need comprehensive water clean up services. Our team will guide you through the water damage into a Fresh Start today!
Servicing the cities of Bethany, Del City, Edmond, El Reno, Midwest City, Moore, Mustang, Norman, Oklahoma City, Yukon, and the surrounding cities.