Can Air Purifier Help Remove Mold Spores?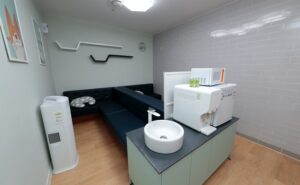 Unfortunately, mold is everywhere. It is not only bad for parts of our house and appliances but also our health. No interior space is exempt. If mold takes hold of a piece of furniture or an appliance, there are many ways to clean them. However, sometimes after the removal of mold, its spores remain in the air that not just permeate other places in the house but also affect the health of inhabitants. So, how to get rid of mold spores in the air? Can air purifiers fight against the mold that damages our homes and prevents us from breathing properly? Yes, air purifiers can remove mold spores from indoor air and also from the walls.
Let's discuss this further, explaining the role of an air purifier in disinfecting indoor air from mold spores!
How Does Mold Grow?
Molds are fungi that thrive under certain conditions. To reproduce, they form spores. The latter move in the air, settle on other organic plant or animal matter and create new mold centers. It appear in the hot and humid places of our interiors, and love places conducive to temperature changes such as tile joints, damp walls, windowsills, etc. Capable of covering great distances, and often outnumbering pollen particles, molds make life difficult for people sensitive to spores and their modes of travel.
The molds that grow on the back of the cupboards, behind the drawers or even behind wallpaper are the ones we can't see. Some fertile grounds for their proliferation are bathrooms, laundry rooms and basements. If the mold appears outdoor, for example in your garden, you can get rid of it by cleaning dead leaves in your garden and cleaning the gutters.
But if it appears indoors, it needs immediate removal since it can be harmful to your health. Moisture and mold often go hand in hand. Humidity generally refers to the visible presence of an aqueous medium, such as leaks or high humidity conditions. A mold-friendly environment is characterized by a musty smell, moisture on hard surfaces, and water spots indicative of leaks or condensation. In addition, such an environment promotes the growth of dust mites, bacteria and other indoor pollutants.
Several other sources can cause humidity indoors. As some are impossible to avoid, it is important to ensure good ventilation in all interior spaces. Problems usually starts when the material has been damp for long enough for mold to grow. Therefore, it is essential to repair water damage immediately after being identified before mold appears.
How to Purify Indoor Air from Mold Spores?
It is necessary to limit the humidity to fight against mold. Repair any possible indoor leaks immediately, activate bathroom and kitchen exhaust fans, and regularly clean areas where mold is likely to grow.
During the cleaning process of mold from indoors, dislodged spores become suspended in the air. An air purifier can play an important role in removing those dispersed mold spores from the indoor air.
Let's discuss the anti-mod action of an air purifier!
How Do Air Purifiers Help Remove Mold Spores?
An air purifier is a device that promises to clean the air of all of its harmful particles within minutes. Recently developed air purifiers come with innovative technologies that clean the indoor air by eliminating harmful bacteria, including viruses, mold spores and fungi.
Several types of air purifiers are present in the market today. They work differently. Some air purifiers work by emitting negative ions that stick to the particles, causing them to fall to the ground, while others emit ozone to kill mold spores. Both types have their pros and cons. Some air purifiers come with different filtration levels and are featured by a combination of different technologies that manage to eliminate indoor pollutants in a few minutes.
Go for Air Purifiers with HEPA Filtration System
It is recommended to use a high-performance air purifier with HEPA (High-Efficiency Particulate Air) filter as they are considered the most effective type for mold protection. Air purifiers with HEPA filtration are drawn into the unit by a fan and filtered multiple times through a filter before returning clean air to the room. The filtration system's capabilities are the basis for the purifier's effectiveness. Just turn on the air purifier and leave the doors wide open.
The Functions of Air Purifiers Capable of Combating Mold
The air purifiers currently on the market offer a wide range of scientifically proven actions. Several of them make it possible to actively fight against spores and fungi against the proliferation of molds.
The HEPA filter meets the standards that guarantee powerful and efficient filtration. Air purifiers that are equipped with a HEPA-certified filter trap nearly 99.95% of particles, including mold. They manage to capture all the spores contained in the air equipped with one or more associated filters. The filtration system can be made of carbon, fiberglass or more natural materials. These filters should be changed on average once a year, according to the manufacturer's recommendations.
Obviously, an air purifier cannot clean the current mold stains deposited on the walls or upholstery and can only prevent their spread. For optimal results, you will be required to clean each affected area with suitable cleaning products manually. You can use bleach for white walls and vinegar or soap water for fragile surfaces.
If none of the above methods works, and you still witness mold in your indoor, taking hold of your appliances and furniture, it is essential to seek professional help. Call 911 Restoration of Oklahoma City, experts at mold detection and removal, and rest assured with mold elimination from your home.