Dealing with Snow in Oklahoma – Areas to Clean up to Avoid Flooding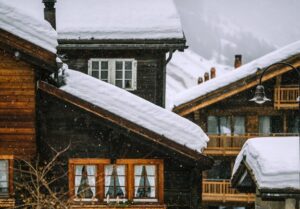 One of the biggest challenges for residents in Oklahoma City is dealing with melted snow. How, when and which areas to clean to avoid flooding are questions that continue to distress property owners because failure to clean melting snow promptly can be disastrous.
In the winter season, the temperature in Oklahoma City drops below freezing daily between December and February hence, averaging nearly 106 days annually. Moreover, the temperature drops below 0° F on a few nights each year. The coldest temperature recorded was -22°F in 1994. In December, the average snowfall is 6.9 inches, 9.8 inches in January, 10.8 inches in February, and 5.5 inches in March.
Did you know that one inch of snow across a single acre of land can yield approximately 1300 to 5400 gallons of water? This means that if property owners don't take quick and effective measures for clearing up the snow before it melts, it can lead to flooding. In such a situation, call 911 Restoration of Oklahoma City. Our experienced restoration experts can help you with water mitigation, removal, and restoration after water damage. Our IICRC certified team will arrive at your premises in less than 45 minutes, fully equipped to restore your home to its livable condition.
At the 911 Restoration of Oklahoma City, we believe that most property owners can avoid the risk of flooding if they know what areas to clear and how to deal with snow. As an experienced water damage restoration specialist, we recommend property owners to two things:
Invest in a flood insurance policy as it can provide you coverage in the event of a flooding disaster
Remove snow before the spring season when temperatures begin to rise, which causes snow to melt. If you clear the snow before it melts, you can significantly minimize the risk of costly repairs and damages. To ensure this focus on the following areas to avoid flooding due to melted snow:
Target Area #1—Roof
Snow may look fluffy and feel light. However, little do property owners know that the weight of the snow can put immense pressure on the roofing. In general, the roof of a home is designed to hold nearly 20 pounds of snow per square foot. But heavy snowfall can easily go beyond this level, putting your roofing at risk of damage, cracks, and collapse.
Moreover, as temperatures begin to rise during spring, the snow can ice melts on the roof, making a pool of water. Standing water on the roof can damage its structural integrity and cause leaks into your home. In such a scenario, low and flat slope roofs are at high risk.
Therefore, the first area to focus on when dealing with snow in Oklahoma is to clean up your roofing. You can do this by using roof shovels and rakes. Use this equipment throughout the winter season after every storm. If you can't access the roof, hire a professional snow removal company to get the job done without putting your roof or your life at risk.
Target Area #2—Basement
The basement is yet another area to clear up after snow to avoid flooding. Basement flooding from melted snow is caused when the snow piles up around the property's foundation in the winter and melts as the temperatures warm up. That's not the only issue.
The problematic situation occurs in a combination of springtime rainfall. This accumulates water which leaks into the soil. It penetrates the groundwater that resulting in flooding of the basement.
Here it is crucial to understand that this doesn't happen to every property. It largely depends on whether the foundation of your property meets a stress test.
For example, if your property's foundation is vulnerable to penetration by the groundwater, then it increases the chances of flooding in your basement as the water in your basement will rise as the thaw continues.
Not only that a flooded basement can lead to serious problems around the property, such as:
Weaken its structural foundation
Damage floor and furniture
Damage crawl spaces
Clog drains
Result in mold growth due to high levels of moisture in the air
Expose you to electrical issues
Therefore, don't wait for the situation to worsen before you take action. Contact 911 Restoration of Oklahoma City for restoration after water damage services. We will come to your assistance right away. Our team will first perform all the necessary steps for water mitigation to ensure no further damage occurs because of the water from melted snow.
Next, we will deep clean your home by removing water from every nook and corner of your property and dehumidifying your space for moisture control and improved air quality.
Our water damage restoration professionals will carry all repairs, replacement and restoration work, ensuring your property is in its pre-damaged state. Contact us now. We will be at your disposal immediately. You can count on us.