Safe Escape from Your Home in an Emergency – Escaping a Flooded Building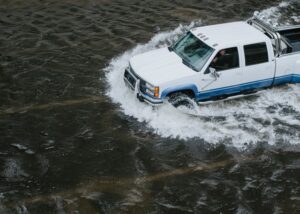 A flooded building is often the result of extreme weather, especially in hard-hit storm states like Oklahoma City where storms and tornadoes are common. No matter what the water source, learning how to escape from a flooded building can make the difference between life and death. Along with a safe escape from your home in an emergency, you should also take proactive steps to save your home from damages and recoup as much of the repair costs as possible.
In this post, we'll talk about some proactive measures you can take to not only shelter-in-place during severe weather but also be ready to escape a flooded building at a moment's notice.
Staying Put During a Flood
In many cases, most sources advise locals to wait out the storm and stay put in their homes with their families. However, this doesn't mean you sit around and do nothing. Here are some measures you should take if you have to shelter-in-place
1.    Turn Off Your Water Source
Even if the flood is due to severe weather, you should turn off the main water valve of your home in case of cracks or leaks. You can also proactively invest in flood-proofing products to minimize water damage.
2.    Turn Off the Electricity
Water is a natural conductor. So, during a flood, you should turn off all your electric systems as a safety measure. If you can't turn off the main switch, at least unplug all electronics, especially the ones on the floor or just a few inches of the ground.
3.    Grab Some Essentials
To avoid moving around from place to place in a flooded building, try to grab everything you need in a single errand. These items include your phone for emergency contact, matches or lighter, protective gear, a torch, a first-aid kit, pocket knife, and some snacks.
4.    Document the Event and Get Cleaning
Even though the present might not be a good time for this, you should try to take pictures and make videos of your flooded home so you can show the insurance company and the home restoration service. If the situation doesn't demand escaping the flooded building, you can start with the cleanup process to minimize water damage and salvage your belongings. One of the biggest problems following a flood is mold damage, especially in homes with hardwood floors. So, it's a good idea to turn on all the fans and dry everything once the sky is clear.
Escaping a Flooded Building
In evacuation from a flooded building becomes absolutely necessary, you should quickly relocate to a temporary shelter by contacting 911 or listening to the local news. If the water climbs more than 10 inches, you should immediately leave the premises and find a dry spot. If you don't know where to go, you should take everyone to your neighbor or friend.  But before you leave, here's how to escape a flooded building the right way:
1.    Secure Your Home
In extreme cases, you might have to drop everything and prioritize safety over everything else. However, if you have time, you should try to salvage some of your belongings to minimize the damage. For instance, if you have furniture out on the porch, bring it in immediately. Secondly, you should move all small electronics and essential items to an upper floor or higher location. If you have some waterproof containers lying around, you can store important documents and gadgets, etc. However, if you're wet or standing in water, don't touch or disconnect any electrical appliances unless the power is off.
2.    Pack Your Disaster Supplies
To safely escape, you must pack essential items from your home to help you during an emergency. These items include food, water, and snacks as well as essential items mentioned above, like a first aid kit and torch.
3.    Have an Escape Plan
Unless it's a life and death situation, you should devise an emergency communication plan and strategy. For instance, where do you plan to go once you're out? What do you do in case of a medical emergency? What if the authorities aren't able to respond in time? By strategizing your escape, you can make better decisions to protect yourself and your family.
4.    Stay Away From the Flood
If you're finally outside of the flooded building, you need to find dry ground and stay out of moving flood water, especially if you're not driving because a flowing stream of floodwater above six inches can easily sweep you off your feet. Use a stick or grab on something if you have to walk through it.
24/7 Home Restoration Services from 911 Restoration in Oklahoma City
Mother nature hasn't been kind to America in the last couple of decades. Millions of homes across the country have been affected by floods due to hurricanes and storms. However, the problem doesn't end there. Once you return home after your safe escape, you'll have to deal with destructive and expensive water damage.
At 911 Restoration in Oklahoma City, we understand how overwhelming managing repairs can be, which is why we offer an all-in-one solution to take care of every aspect of the restoration. With a highly-trained and equipped team at your disposal, we offer peace of mind in terms of expertise and safety. Feel free to call us for more information regarding our home restoration services, including water damage repairs, mold removal, and disaster restoration.