Water Damage Oklahoma City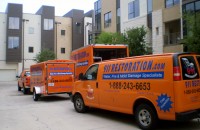 It's true that homeowners despise the idea of dealing with water damage. Whether it's from floods, storms, rain leaks, or plumbing leaks, dealing with water damage can be a headache. There are three different types of water damage that homeowners should pay attention to and understand before calling a professional.
There can be an instance where water has encroached upon your home. This type of water damage usually comes from an appliance malfunction or a busted pipe. Rain leaks can also create water damage; oftentimes the water is seen as being clean. Fortunately for home owners, this type of water damage is fairly easy to handle. Gray water damage is contaminated water that has either been neglected or just because the nature of the source. When your toilet or other appliances overflow, the clean water can become gray. If you decide to handle gray water damage before the water restoration professional arrives, you should consider protecting yourself from microbes and contaminates by wearing gloves.
Black water damage is considered to be the most hazardous of the three types of water damage. Black water is a result of sewage backup or natural disasters. Black water includes bacterial diseases, toxic materials, pesticides and chemicals that can create an unsafe environment for your home. If your home has experienced this type of damage, it is advised that you hire a professional to handle the disinfection process.